With much expectation, ICBDA 2021 was finally held successfully in virtual form during March 5-8, 2021. Although unpleasant situation prevents us from gathering at beautiful Xiamen, the conference was still activated by the warmness of participants!
ICBDA做为大数据分析会议的旗舰会议,鉴于目前的疫情防控政策,最终会议还是以网络新媒体形式召开。会议依然取得了良好的会议效果。
On March 6, Conference Chair - Prof. Sheng-Uei Guan and Co-chair - Assoc. Prof. Minghui Shi made an opening remarks and welcome address respectively.
会议于3月6日上午在线上开幕。会议伊始,大会主席,西交利物浦大学关盛威教授致开幕辞,代表大会组委会成员对学者们的出席表示热烈欢迎,对委员会成员的辛勤工作表示感谢,相信各位专家的精彩报告与讨论将大数据领域的前沿研究,加强领域了解、促进合作。接着,大会联席主席厦门大学施明辉副教授致欢迎辞,对此次协助单位表示感谢,对大会的召开表示了衷心的祝愿。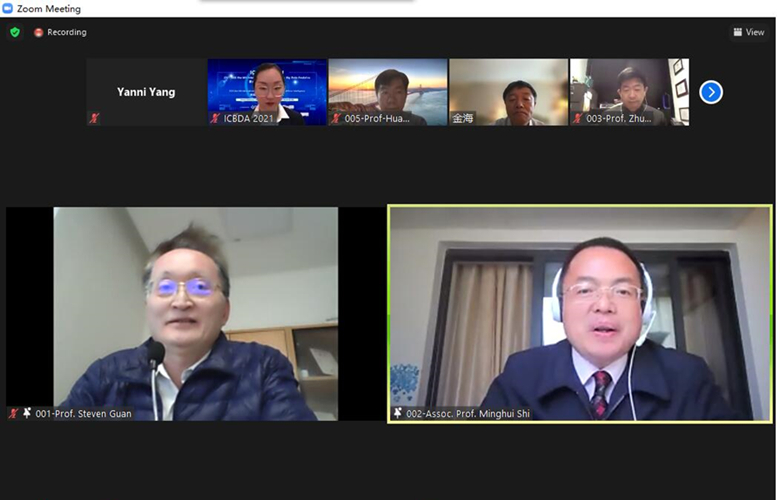 On keynote and invited speeches session, Prof. Zhu Han, Prof. Hai Jin, Prof. Huajun Chen, Prof. Qing Li and Prof. Hayato YAMANA etc delivered excellent speeches.
在3月6-7日举行的大会报告和受邀报告环节有来自国内外5位专家教授就大数据分析的现状及发展做了精彩的主题报告。他们分别是 韩竹教授,IEEE Fellow,美国休斯顿大学; 金海教授,IEEE Fellow, 华中科技大学; 陈华钧教授,浙江大学; 李青教授, 香港理工大学; Hayato YAMANA教授, 日本早稻田大学。
Moreover the conference was composed of 17 technical oral sessions, topics covered, for example, Data Mining, Data Analysis, Modern Information Theory and Intelligent System, Data Calculation, Image Analysis and Processing and so on. Each parallel session went through smoothly and a "Best Presentation" award was issued at the end of sub-conference.
ICBDA 2021 吸引了130多位专家学者以及公司代表参与会议讨论,本次会议设置了17个分会场。在为期三天的会议中大家围绕数据挖掘、数据分析、现代信息论与智能系统、数据计算、图像分析与处理等主题进行了论述,并分享了各自领域的最新研究和经验。
Photo Gallery

Some participations with camera on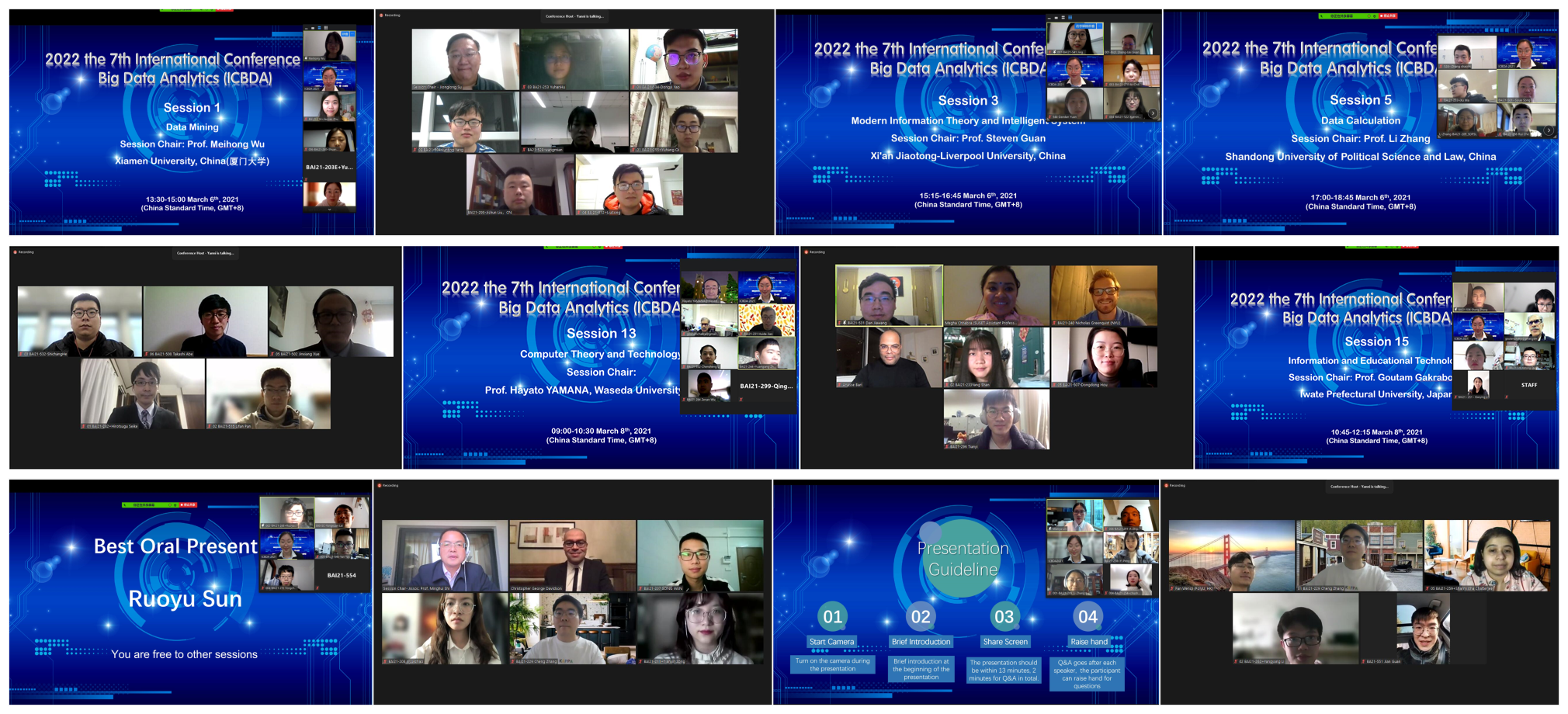 Excellent Oral Presentation Winners
Session 1 - Jiaojiao Zhu
Session 2 - Dandan Cui
Session 3 - Jingyi Ge
Session 4 - Wanpeng Ji
Session 5 - Siyue Song
Session 6 - Song Liu
Session 7 - Ruoyu Sun
Session 8 - William Brower
Christopher Davidson
Session 9 - Yi Peng
Session 10 - Cheng Zhang
Session 11 - Chengjin Lyu
Session 12 - Shichang He
Session 13 - Huida Jiao
Session 14 - Jiawang Dan
Session 14 - Nicholas Greenquist
Session 15 - Ketong Qu
Session 16 - Shicheng Zhou
Session 17 - Yuetong Yang